Barton Reading and Spelling Review Table of Contents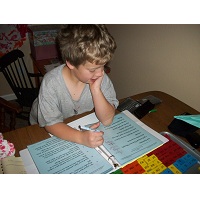 I want to start off by telling you that I am in no way connected with Susan Barton or Bright Solutions- they are not sending money this way. As a parent with kids who have dyslexia, it is my goal to share my experiences in order to help other parents whose kids struggle with reading and/or spelling, too.
My kids were struggling with reading and spelling. The cyber school that my kids were in enrolled in a few years ago recommended that we try the Barton Reading and Spelling System, created by Susan Barton, owner of Bright Solutions. I discussed it with a few parents who used the program and decided to give it a try.
What kind of Program is the Barton Reading System?
The Barton Reading System was originally developed for adults struggling with dyslexia. It has since been adapted so children as young as 5 can use it, too, if they can hear difference between sounds (phonemic awareness).
Even though I started off with only two kids having dyslexia-related challenges (I never paid for an official diagnosis), I decided to start my other kids on the program as soon as they started kindergarten. If they did have dyslexia, they would be on the right path from the start, unlike their older brothers who started in 2nd and 4th grades. If they did not have even a slight problem with dyslexia, this program is still very beneficial because they would understand why words are spelled a certain way and they will be learning reading with a hands-on approach. So, students do not need to have dyslexic reading challenges to use this program.
I learned that the Barton Reading System is influenced by the Orton Gillingham curriculum, which is multi-sensory based. Students hear, say, touch, write, and see what they are learning about. The advantage of the multi-sensory approach is that you're helping your students to create many pathways in their brains as they are learning reading and spelling, making it more likely that they will remember what they are taught. Also, since each learning style is used to pass on the information, kids of all learning styles will be able to achieve success with this program.

What comes with each level of the Barton Reading and Spelling System?
DVDs with Susan Barton demonstrating how to use the program. This is a great feature because you do not need to be a certified teacher to use this program. Simply watch the DVDs before you teach each level and do the examples to build your own understanding.
Tiles: all the tiles that you will need to teach your students that level are included
Teacher guide: The teacher guide tells you word for word what you need to tell your student, so you don't have to make it up as you go. In the columns, you'll find the short version so that when you are comfortable enough with the program, you may not need to word or sentence provided.
Student pages: They come in blue because Susan Barton believes it is easier for students to learn using blue paper with black type.
What supplies do I need to get started?
Using your Barton Reading and Spelling System with more than one student:
I have 6 kids and wanted to protect everything in the program so that all of them could use it without replacing any of the worksheets. I also wanted to make it easy to set up my lessons as possible. There are a bunch of letter tiles to keep track of and set up.
The first thing I get is a 3 ring binder for each level that has student pages. I choose binders with pockets to keep the site word note cards the students are currently working on and clear inserts on the spine and front so that the notebook can be labeled with the Barton level number. Then, I place 2 pages in each page protector before inserting the pages into the notebook. I recommend selecting packages that contain between 100 and 200 sheet protectors because you'll need several hundred for 7 levels that come with student pages. I do put the tutor training into as few sheet protectors as possible so that I use as few as possible. Then, I use wet erase markers to write on the page protectors and a damp cloth to erase the kids' writing.
Second, I bought magnetic tape, cut (or break) the pieces about 1/3rd the size of the tiles, and attach them to the back of the tiles. I arrange them in alphabetical order on a metal cookie pan. I needed only one large cookie pan until I reached level 7. Then, I had so many tiles that they would no longer fit in an organized fashion. I got a second pan and placed the prefixes, suffixes, unit, and vowel team tiles on the second pan. I left the alphabet, digraphs and trigraphs on the first pan. This also helped my students to find the tiles more easily. I ended up using 3 pans before I finished the program.
Third, instead of going through reams of paper for site words, spelling words, phrases, and sentences, I bought a 9×12 dry erase board, eraser and markers. My kids only use these supplies for doing Barton lessons, so they think it's a real treat. I want to point out that the dry erase board I use doesn't have the lines because kids and adults with dyslexia may also have dysgraphia, so it may frustrate everyone during the lesson to work within the lines. I choose to keep handwriting and Barton lessons separate to decrease frustration.
Fourth, when you get to level four, you need a Franklin Spelling Ace. The lessons teach the students how to look up words using special techniques when there are multiple ways to spell a particular sound. Susan Barton emphasizes that only the Franklin Spelling Ace be used because the instructions throughout the lessons are specific for that brand and model. I got one for each of my kids when they reached level 3 because I never know the exact day when they will start the first lesson that they need the Franklin Spelling ace, plus they may need to use it while doing their other school work.
Another advantage of having a Franklin Spelling Ace is that there is a built in reading timer. I set it for the amount of time I intend to teach and it lets me know when the time is up. Also, when my Franklin Spelling Ace ran out of batteries, the screen didn't seem to want to work when I replaced the batteries. My son used the reset button on the back. Viola! We were back in business and we don't have to wait or press clear to get rid of the demonstration message that appears when the Franklin Spelling Ace is first turned on any more.
How Much Does the Curriculum Cost?
The virtual school had a site license allowing the students of their school to use the program at a discounted rate (we also qualified for a partial scholarship based on our family's income) with me being their tutor. This is a big deal. If you look at the graphic below, you will see why: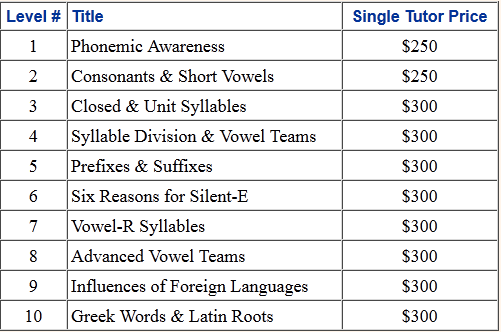 Another way to obtain the levels is to buy used copies. Some people find the Barton Reading and Spelling for sale on Ebay or their local classified ads (e.g. Craig's List). Sometimes, Amazon has them available. If they do today, they'll be here:
If money is an issue, I would try teaching your kids yourself. You will see a bunch of light bulb moments, which is one of the benefits of teaching your own children. You do not have to be a home school family or a trained teacher to do this. All the training you need comes with the program.
If you do not have the time nor the inclination to teach your kids from the Barton Curriculum, you can locate a Barton Tutor in your area. There are two types of tutors. The first type of tutor is someone, like me, who has experience working with kids, but hasn't had any formal training. They should charge less than the second type of tutor, who is trained by Susan Barton. Tutors who go through training with Susan Barton can be quite expensive, but worth every penny. They can charge quite a bit of money and have been "certified" by Susan Barton.
Many kids are tutored two or three times a week between 30 and 60 minutes per session, making lesson scheduling possible for even the busiest families. At the very least, I recommend scheduling lessons three times per week for 30 minutes per session. This will decrease the amount of time used for reviewing due to kids forgetting what they have learned. I aim for four-30 minute sessions per week.
Here is a video that I made to show you some of what I am talking about above:


Conclusion
I shared with you some ideas for obtaining the Barton Reading and Spelling System as well as some ways to make your investment last. While the extra supplies may add up quickly, they save you a bunch compared to replacing your Barton materials. The cookie pans will help you to stay organized and  prepared for your next lesson.
I also provided a brief overview of the Barton Reading System and explained that dyslexic reading challenges do not need to be present to use this program.
Lastly, I want to remind you know that I am in no way connected with Susan Barton or the curriculum I shared with you- in other words, I'm not getting a penny from Susan Barton or Bright Solutions for writing this review. I am simply a parent who wants to spread hope to others who either struggle with reading and writing or know some one who does. I have had success with this program and hope that my experiences will help you to decide if this program is for you or not.
Also, I am in the process of creating worksheets to help my sons practice their site words for the Barton Reading and Spelling Program. You can download them and edit them using StartWrite 6.0 for your own use. Barton Site Word Worksheets:
Please feel free to share your thoughts about dyslexia and the Barton Reading and Spelling System in the comments form below. If you know someone who struggles with reading and/or spelling, please pass this on to them so that they can learn more about this program.