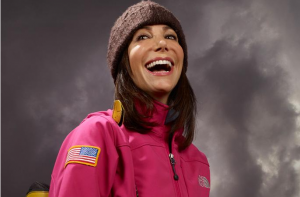 I am so excited to introduce you to Alison Levine. I recently saw this video of her when she was at TEDxMidwest while I was at a training for Pampered Chef Consultants. However, I think it applies to life in general- at least to people who set goals. It's inspirational and most people will be better for seeing it. I know it made a difference for me!
When you're done, I hope you're motivated to do something bigger or better than when before you watched this. Please tell me what goals you are going to accomplish now that you've seen it in the comments section below. You might inspire me, too!
If you didn't create a new goal, tell me what you liked best about the video or what inspired you most.
*Update: I frequently post inspiring things on twitter. I seem to have gotten Alison's attention and received the following tweet in return: "fyi, I find YOU very inspiring. Raising compassionate/responsible/loving children 1 of hardest/most important jobs in the world."
I think that tweet could very well have been sent any parent and home schooling mom or dad. So, I am sharing it with you. YOU ARE INSPIRING, TOO! That tweet made my day!