I am always looking for ways to save money. Isn't just about everyone?
This time around, I am not only looking to save money, but use cleaners that are safe for my family. So, when my friend, Shiloah, told me she had a recipe for making homemade laundry detergent that was safe for HE washing machines, I copied it down right away and began to hunt for the ingredients.
I'm not someone who likes to shop, but the hunt was thrilling this time because I knew I'd spend very little and save a lot.
Powdered Laundry Detergent
1 (4 lb 12 oz) Box of Borax- Found in the detergent aisle
1 (3 lb 7 oz) Box of Arm & Hammer Super Washing Soda- Found in the detergent aisle
1 (3 lb) Container of OxyClean- Found in the detergent aisle. (Optional)
2 (14.1 oz) Bars of Zote Soap- pink for the scent or white for none
1 (4 lb) Box of Arm & Hammer Baking Soda- Found in the cooking aisle
1-2 Bottles of Purex Crystals Fabric Softener (Optional)
Grate the soap using the smaller side on a hand grater or a food processor. Layer the soaps and mix gently. If you choose the bottle of Purex, you can pour some of the detergent back into the Purex Crystals bottle. The lid has approx. 1-2 T to measure with or you can reuse the oxyclean scoop.
Notes:
*The Zote soap bar melts great in cold water
*Works perfectly with HE machines.
*This recipe is half the cost of your regular laundry detergent
Since I was on a tight budget, I skipped the Purex and the Oxyclean.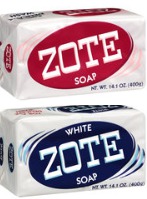 I live in a rural area that has 3 stores: Safeway, Walgreens and Walmart. I found everything I needed, except the Zote Soap, at Walmart. The other stores didn't carry what I needed. So, I went to town after doing an internet search for stores that carry Zote Soap. I learned that Lowe's carries it. So, I went to the Lowe's store that was near another errand I was running only to find out that this particular Lowe's didn't carry it. So, I ended up getting it at another store. Some Walmarts carry it, too, just not the ones near me.
When I made the recipe, I used one white Zote soap and one pink. I'm not fond of artificial fragrances, so I thought it might be overpowering to use 2 pink scented Zote soaps. The smell ended up being pleasant and I didn't notice any residual smell after I hung my clothes on the clothes line.
I used my old food processor to grate the soap. It was easier than grating food.
The whole process took less than 5 minutes, including grating.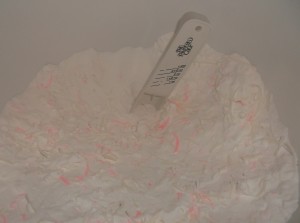 You're probably wondering where I stored it. I had some buckets that I got for FREE from the bakery department that used to contain icing. I washed a bucket out and thoroughly dried it before I put all the ingredients in it and mixed them together.
I use my old Pampered Chef adjustable measuring spoon since I recently got a new set. Then, I just fill it two times and put it in the laundry detergent dispenser in my machine. Piece of Cake!
When I washed my clothes, they smelled clean and looked clean. No more buying laundry detergent for me!