I don't know about you, but I don't always have time to create quizzes and activities for each and every book my kids want to read. Sometimes, I don't even have time to re-read the books that I know are good for them to read. Besides, if my kids are reading books, I'm sure other people's kids are reading the books. So why re-invent the wheel? Rather than purchasing curriculum for every interest my kids have, I'm always looking for free resources.
That's where Kid's Zone Book Adventure comes in.

They have a list of commonly read books for each grade level. Kids read the books and take a quiz. The more questions they answer correctly, the more points they earn. The more points they earn, the more prizes they get. One of my kids' favorite prizes in the past was a treat from Rocky Mountain Chocolate Factory. Another was a card game.
Other prizes include free e-books or books in the good old fashioned physical format.
Even if the kids didn't get prizes, I like that I don't have to buy a curriculum that comes with a lesson plan for every single book my kid reads. I can know that they are comprehending the important points or story lines for the books they read.
I say this is a win-win in my book!
So, how did I get started?
I created my account when my 7th grader was entering kindergarten. What I remember was vising the Book Adventure site and creating a parents' account. This is important because parents need to approve the prizes that their kids redeem. It also gives you a chance to see what your kids are up to on the site.
It's important to remember which email address you use because you must use the same email address for your student(s).
Second, create a student account for each child. This is important because each child can only pass off the book once, otherwise they'd get prizes for the same book multiple times.
Creating a booklist on BookAdventure
Then, you can create a book list for your student when they're logged in.

Then, click "save and add books to my booklist."
You'll get this screen:

I like that I can use the ISBN, Title, Author's last name if I already know that information. But, if I want to get some suggestions before I go to the library, the site will give me a list based on my preferences.
In the past, I noticed it is important to make sure that you pay attention to the author of books like Cinderella because not all author's versions of Cinderella have the same details and storyline.
You'll want to be as specific as you can when you search for books to add to the booklist based on interest because there are a lot of books in the database as you can see here: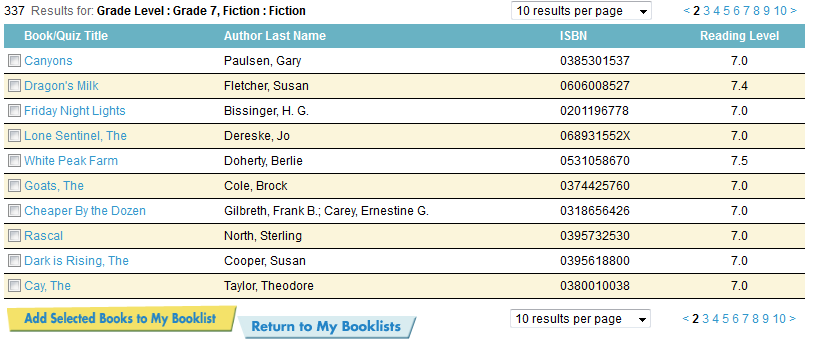 To add books to the list, simply click on the square next to the title(s) that interests you and click "add selected books to my booklist."
You'll get a screen that looks something like this:

Now, you can print out your list and take it to the library. You also have the option to export it to Excel. I use the program OpenOffice.org because it is FREE. When I click on "Export to Excel," I was given the option to open OpenOffice.org's Calc program in a read-only format. If you want, you can "save as" so you can adjust the columns to make the titles easier to read. As you can see below, the ISBN is listed (please note there should be zeros in front of the 6 on the ISBN, which Calc removed, which makes it harder to copy and paste that information into the quizomatic search later on):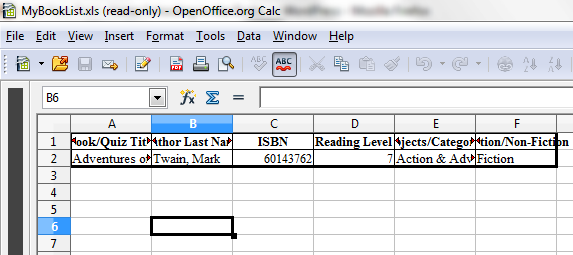 Book Adventure Quizzes
When you're ready to take a quiz, simply click on the quiz tab under the book adventure logo and you'll see this:
The number of questions on the quiz is determined by the length and level of the book. Here is an example of the first two questions on the quiz for Huckleberry Finn: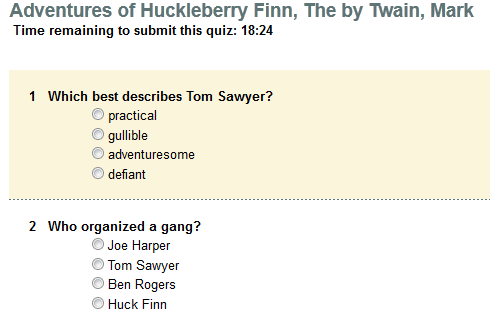 Each quiz can be taken 2 times. If a student doesn't do well the first time, I recommend that the student goes back and studies the book before attempting a second time because there is no third chance.
How can I help keep this site alive?
Book Adventure is always looking for quiz writers. If you are interested in helping out. I recommend going to the FAQ, then click on the Creating quizzes tab.