Hi everyone!
I am very excited that I can help raise awareness for cancer as well as money for cancer research! I am holding an online Pampered Chef show to raise money for the American Cancer Society.
How it to Help
May is "Help Whip Cancer Month" for Pampered Chef. For every Pink product ordered in my catalog show, Pampered Chef will donate $1 to the American Cancer society.
My catalog show is under the name of Caleb Gardner. Here's my special deal: Order anything out of the catalog. When your order equals $60 before shipping and taxes, I'll throw in 1 Pink & White Twix It Clip Combo Pack in addition to the monthly special (2 free prep bowls) at my own expense- including the taxes for the twixit clips!
This is MY special, not a Pampered Chef special. The cost of the twixit clips will come out of my commission. I love to have the opportunity to help others, so I want to make the deal even better! I'll throw in another pack of twixit clips for EVERY $60 you spend. So, if you order $120 before shipping and taxes, you'll get 2 packages. A $180 order equals 3 packages and so on.
Naturally, I hope many of you will order Help Whip Cancer products so that we can support cancer research.
The direct link to this catalog show: http://www.pamperedchef.biz/springsgardner?page=host-search-results&showId=4165712
What are the Help Whip Cancer Products?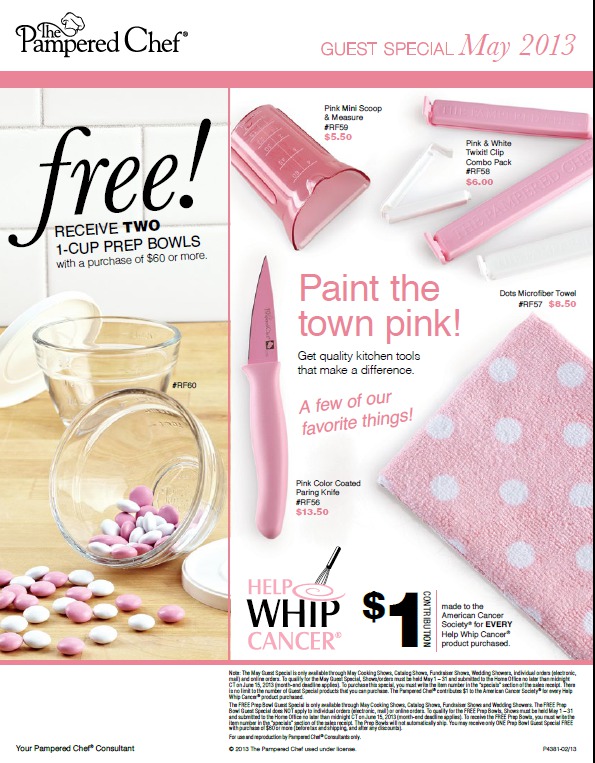 Any other ways to help?
You can help when you share this information with your friends. Orders can be shipped to just about anywhere in the United States.
If you live in the Colorado Springs area, I will deliver it to you myself- unless you'd rather have it delivered to your house for any reason. If you live outside of Colorado Springs, please have it shipped directly to your home!
Please share this post via social media and/or email so we can make a difference!
This catalog show will close by May 29, 2013. Thank you!
Becky Gardner
http://www.pamperedchef.biz/springsgardner?page=host-search-results&showId=4165712