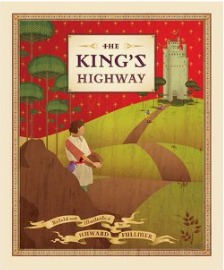 My son received The King's Highway from his grandparents as a present. This 32 page book, first published by Shadow Mountain in 2006, is beautifully illustrated and retold by Howard Fullmer.
The story begins with the king announcing that the best traveler on the king's highway will be the next ruler since he has no heir. The trek is set to begin in three days. Many spectators line the road to watch people dressed in their finest clothes, boasting about their riches guarded by servants back home, and showing off their fancy horses.
Our hero decided to follow the group to see what happens. He is a lowly shepherd dressed in plain clothes. During their travels, they encounter a pile of rubble blocking the road. The hero gradually removes the gravel so that the travelers may pass. When he is finally done, everyone is long gone. He finds a ring with the king's crest and decides to return it. When he arrives at the castle, he apologizes for being late and returns the ring to the king. The king pronounces him as the ruler of the land because fine horses, wealth untold, and fancy clothes do not make a king. Service is necessary to be a good king.
One of the reasons I like this book is that it reminds children and parents alike that service is something we should value, not the products of greed and selfishness. I also enjoyed the illustrations. They are captivating and realistic.
My children enjoy this book and request that we read it frequently. The King's Highway is recommended for children ages four and up. However, my two year old enjoys listening to the story, too. Children in grade 2-3 will find this  a fun read.
More information:
ISBN +13= 978-1590386316
ISBN = 1590386310