**Update** It appears that Math Minutes is no longer available from the publisher. I'm still looking. There are other sites, but I haven't found one that is very kid friendly yet- some require too many buttons to push which lowers their speed and score.
A few years ago, we used the Sadlier Oxford Progress in Math curriculum. With it came worksheets called Math Minute. Basically, I set the timer to 1 minute to see how many questions my kids could answer in one minute. That was great, but doing it online is even better.
Math Minutes Choices
Math Minutes  is like practicing using flash cards, only in a more electronic form. This makes math cool. There are a lot of choices for you to choose for your child to practice. One advantage of the Math Minutes online option is that kids can practice division. There aren't as many choices for division as there are for the other operations. However, some of the other sites I plan to review do not have any division practice whatsoever.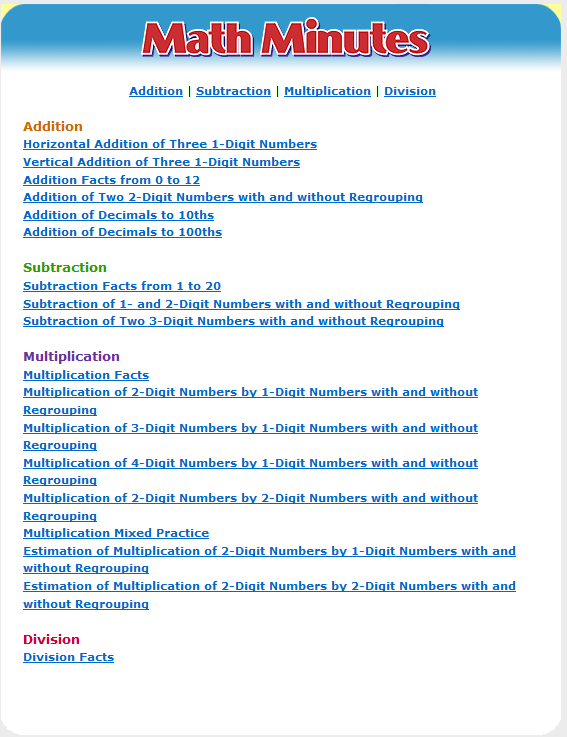 Math Minutes Set Up
After you choose which type of math practice your student will do, you will get to select options such as what you will see in the following graphics:
Math Minutes Recording Progress
As the child works on a problem, you'll see how many math facts they got right and how many were wrong. One of the downsides to the way this program is set up is that you won't know which math problems your child didn't get right unless you're paying close attention. If this is important to you, you could try some of the other games I've reviewed such as XGerms and Math Trainer a few times a week to see how they are progressing.  One thing I like about the online version of Math Minutes is that I don't have to choose grade or level specific options. I can choose what my child needs to work on most.
Sadlier Oxford Online Components
Sadlier Oxford has other options for practicing grade specific math skills on its website. You can see them in the graphic below.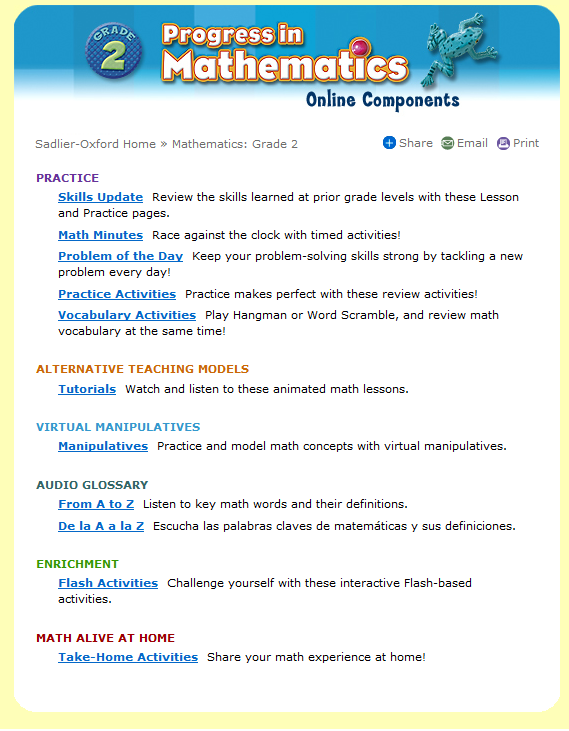 As you can see, those are activities for 2nd grade math. These are great activities to do as you progress through the curriculum or for summer time activities to increase retention. They can be accessed via the Sadlier Oxford Website. Their virtual manipulatives are integrated into their activities and help children to see the differences in values between whole numbers, fractions, Etc. just like physical math manipulatives.
Conclusion
The point is to help kids to see that math is cool. It's not just about worksheets. Math can be done in many different ways, which makes learning more interesting. While this may not be the most exciting online adventure in math, kids will like having a change of pace.
If you are looking for online and offline games that help kids practice and/or learn math skills, there are many online resources for parents. I think we're blessed to live in a time when we have so much information at our finger tips. If you have more ideas, please share! I'm anxious to hear about them. Then, please share this site with your friends.